Piraeus
In our recently renovated facilities in the port of Piraeus extending to an area of 2.500 m2 operate:
Β2Β Sales
Staffed by experienced personnel in the safety equipment field, offers technical advice and provides personalized solutions to our customers' needs in Greece as well as worldwide.
In more than 40 years of operation STOP has performed hundreds of safety projects and has provided solutions for the safety of important organizations in Greece as well as abroad. Well established organizations from the global shipping industry, oil and gas as well as any sector of the industry, mining, construction, energy, transportation and every small-medium company, has trusted STOP for the safety of its people.
B2B Customer Service and Ε-commerce
Customer oriented, our experienced customer service personnel rapidly responds providing stock information, purchase history as well as delivery status.
Important feature is the after sales monitoring of specialized equipment where customer is informed of product's inspection or calibration dates and/or product recall in case this is advised by the manufacturer.
Service & Technical Support Centre
Our Service Center in Piraeus ensures full service of your Honeywell gas detector, 3M/ Scott and Sündstrom breathing systemsthrough inspection, maintenance, service, calibration and certification.
Our personnel is also trained and certified by 3M/ Capital Safety to inspect or/and service fall protection equipment and horizontal or vertical permanent systems.
Warehouse
Modern storage facilities extending to an area of 1.400 m2 provide great storage capacity of nearly 7.000 active SKUs.
Advanced WMS improves picking and packing time, minimizes fault and ensures accurate deliveries and traceability.
Piraeus Retail Store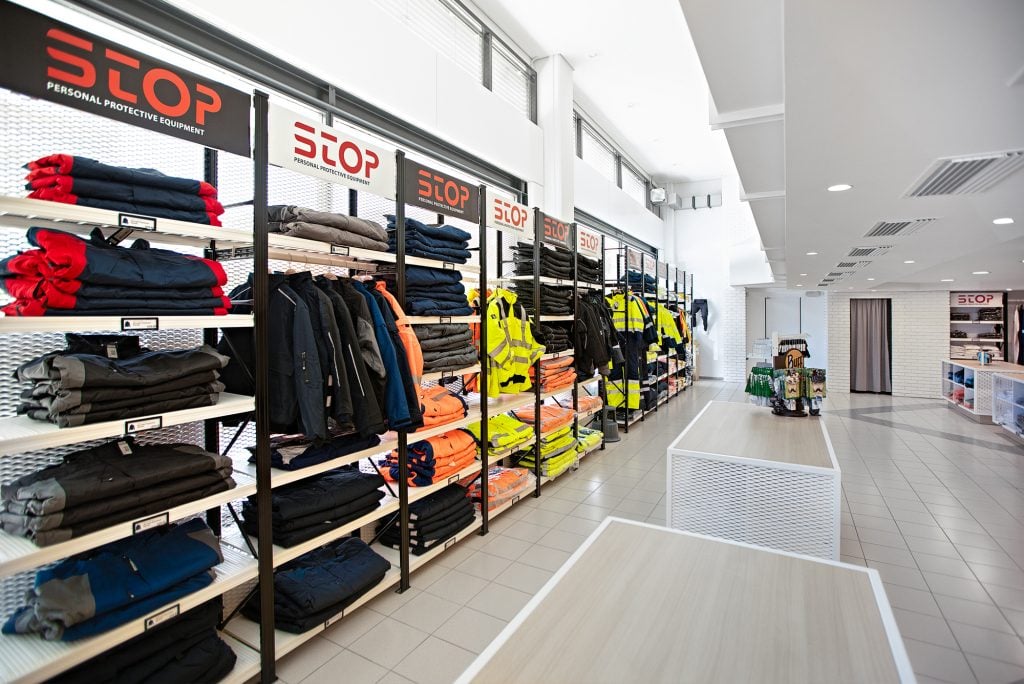 In an area of 650 m2 one can find available a great variety of protective equipment in workwear, footwear, gloves, head protection, fall protection, breathing protection, gas detectors and other safety equipment.
Our personnel is prompt to provide solutions for every demand. We are solution providers for every worker's safety.
Production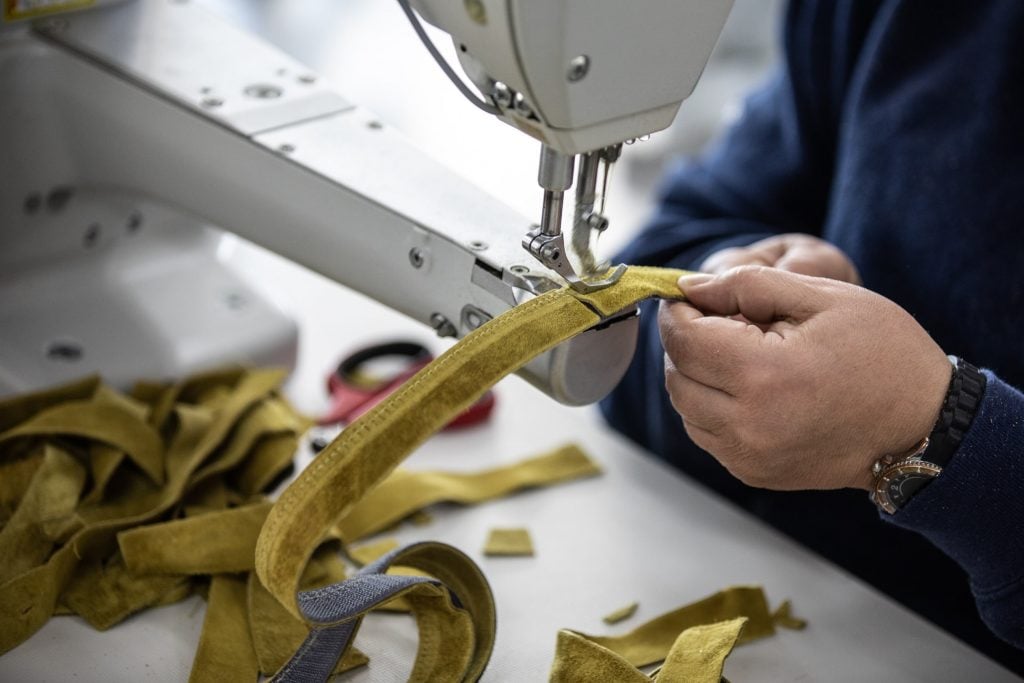 Equipped with the latest in technology and certified with OEKO-TEX® Standard 100 for the use of raw materials free from harmful substances, STOP production department produces technical equipment for welding/ foundry workers, flame retardant suits for the metal industry, fire fighters' proximity suits, fire resistant gloves, healthcare, hygiene and food industry garments. The produced garments comply with industrial regulations and are CE certified according to EU standards where applicable.
In 1998 STOP's production received honor for the implementation of the first "CE" mark on a Greek personal protective equipment product by the Ministry of Development as well as the 1st award of Quality Production by the Greek Chamber of Commerce.
Workwear Branding
Enhance brand awareness and make your brand stand out from the crowd. We bring the best results to your company's logo application by using latest technology printing machines.
We produce vinyl prints in-house emphasizing in detail, improved quality and duration of every print and ultimately the best result for the final product. Our new heat transfer machines are energy friendly, they aim to the operator's safety and increase productivity by using lining laser to place the print in position fast and correctly.
Training Centre
In our recently renovated facilities in Piraeus we provide theoretical and practical training in a series of seminars. Training reinforces awareness, provides knowledge on national and European legislation issues, control, usage, personal protective equipment inspection, maintenance, permanent systems inspection and a series of issues concerning work at height.
Courses are performed by trained and certified personnel that carry registered certificates. In our centre the following seminars are provided:
Proper use of personal protective equipment (PPE)
Proper use of hearing protective equipment and ear fit validation
Basic work at height
Installation, inspection and maintenance of permanent vertical systems
Work in confined space
Work with chemicals
We also offer:
a. Customized training seminars based on the needs of each working environment e.g. wind farms, refineries, telecommunications etc.
b. Consultation services for choosing the proper PPE based on the risk assessment composed by the Safety Engineer.
STOP Rotterdam
Similar in philosophy and structure with the Piraeus facilities, STOP in Rotterdam was established in 2013. Our operations here are accommodated in privately held facilities of 1.000m2.
With a complete range of more than 7.000 SKUs we ensure availability of products and trouble-free worldwide delivery of orders. We believe safety is a culture, not obligation. Our goal is to communicate this culture to the people around us.
STOP  Thessaloniki
Kalamaria Retail Store
In Thessaloniki in the area of Kalamaria opposite OASTH operates the new Stop retail store. In a modern area of 250 m2 completely dedicated to safety, one can find all personal protective equipment necessary in every workplace.